Writing for and with children in artistic research 
In CARPA7 colloquium I gave a lecture-performance presentation with a topic "Writing for and with Children in Artistic Research". In my presentation I introduced drawing as a practice of writing for and with children in artistic research, especially from the viewpoint of early ages dance pedagogy. In the beginning of my presentation, I shared the structure of my presentation through a method I would introduce later in my presentation, a Storyboard method.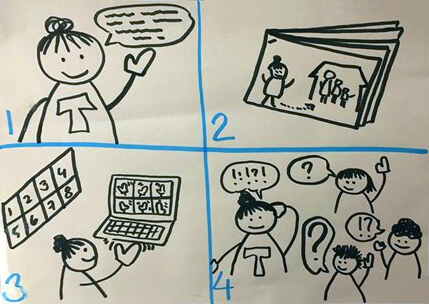 Translated into more traditional form of writing, the frames presented in the Storyboard could be described followingly: 1) Presentation of myself, my research, and my methods of drawing as a form of writing in my research, 2) Sharing a couple of practical examples from the fieldwork in a Helsinki City kindergarten, 3) Co-creating and performing a choreography together with the colloquium participants and 4) Discussion and questions.
This presentation was also an experiment in exploring a method originally developed with children in a kindergarten by transforming it into an online version with adults – fellow scholars and artists. This practical exploration turned out to be encouraging and it clearly showed the potential of drawing as a supportive tool for enhancing intra-activity and playfulness in a shared process of cochoreographing and performing a dance.
Drawing as a form of writing in my research
In my research I am investigating early years dance pedagogy and focusing on questions of ethical and inclusive means of encounter through dance. My approach is dialogical (see e.g. Buber 1923/1993 and Freire 1968/2005) as well as intra-active (see e.g. Barad 2007 and Lenz Taguchi 2010). I am considering children as my co-researchers and active agential experts on their world of experience. I am also aiming at deconstructing the adult–child dichotomy and re-distributing the authority of knowledge. I propose that using drawing as a creative means of writing, the communication between an adult and a child as well as among children may become more reciprocal, playful, and thus supportive for an intra-active artistic co-operation. Based on my experience in my Carpa7 colloquium presentation, I would expand the potential use of this method to include all ages. By applying drawing as a method, it might also become possible to choreograph the pedagogical settings in such a manner, that the artistic process becomes more inclusive for participants with diverse linguistic skills and backgrounds.
Practical examples from the fieldwork
Through the practical examples from the fieldwork, I introduced two approaches to drawing as a form of writing, that have the potential both to support the building of common understanding and the distribution of creative agency. In the first example I shared my process of formulating the information sheet for my fieldwork. The information sheet was aimed at the guardians of children participating in my research. Instead of a simple and concise paper, the information sheet became more complex and longer text than I had wished for. The kindergarten participating in my research was particularly multicultural, which required translating the information sheet from Finnish into English, Somali and Arabic. In addition to written translations prepared for guardians, I translated the information sheet into a drawn booklet for children. The booklet was important for me from the ethical point of view because I wanted to give the children also the opportunity to understand why I was there with them and why did I need them to be there with me. During the fieldwork, besides just looking at the pictures in the booklet and discussing over them, we also embodied the contents by dancing the drawings. As an example, I shared in my presentation a greetings dance that had been choreographed in the kindergarten with the children.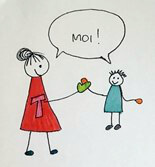 This drawing in the information booklet worked as a starting point for co-creating a greetings dance with the children in the kindergarten. We explored several, both traditional and more experimental, ways of greeting each other and invented names for all the invented greetings. We practiced and learned to greet each other for example with fish tails, kissing thumbs and hugging little fingers. The greetings could be used both in pre-choreographed dances and in improvisation as gestures of creating contact with others.
After the pandemics stroke, my fieldwork got terminated and ended up re-choreographing the greetings dance into a solo version escaping the touching, which suddenly was not considered safe anymore. Since I could not physically be in the kindergarten, I had to convey the solo-version of the dance in a format of a video, from which I share only a picture with hugging little fingers here.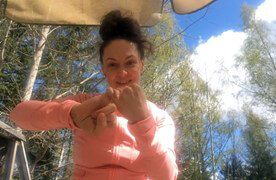 For my Carpa7 colloquium presentation, I further translated the greetings dance choreography into a format of Storyboard, to provide a visible example of the connection between the movement and the writing of the choreography by drawing.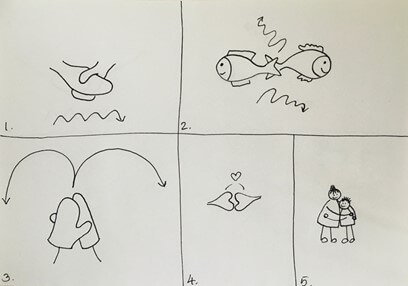 Introduction to Storyboard method
Storyboard was an initiative by the children participating in my fieldwork and it became a tool for co-constructing, teaching, learning, and performing choreographies through reciprocal and playful processes. In the Storyboard method the movement ideas for the choreography are first translated into a series of drawings on a grid and used as a score for the dance, which was kept at sight while dancing. The storyboard worked not only as a tool for sharing and remembering the choreography, but also a tool for co-creating dances. It concretely promoted the distribution of the creative agency since everyone could have a frame in making of it.
Co-creating and performing a choreography as a part my presentation
In my colloquium presentation, we made an exploration of the Storyboard method together with the participants. For me it was the first time for applying the Storyboard method for working with adults and in addition through online mode. For our Zoom session, I had prepared a drawn large-scale grid with eight frames, which was attached on the wall behind me. I encouraged the participants to propose any kind of gestures or movements for greeting each other by sitting at our desks. The proposing could be done simply by the virtual raise-hand function on Zoom. There was active participation in proposing and I kept on translating the shared movements into drawings on the Storyboard.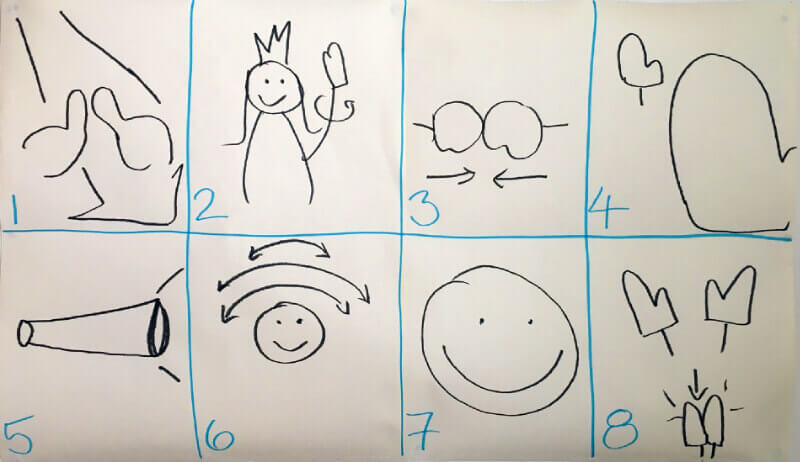 As soon as all the frames were finished with drawings, we prepared for the instantly upcoming performance by rehearsing the choreography together a couple of times. During the performance the choreography was successively repeated several times without pausing between the rounds. The participants were guided to alter the states between performing and watching according to their interest. The last round was finalized with a short improvisation on the last movement in the Storyboard as an inspiration.
Reflection and concluding remarks
This presentation was an encouraging experience and simultaneously a valuable arts pedagogical experiment for me. It was an opportunity to apply and stretch my method into a new direction that was very different from where the method was originally developed. My experiment was welcomed by the participants with an open-minded interest and a supportive willingness to play along in creating and performing the choreography. It was inspiring to sense the change of the atmosphere which occurred while we started engaging with the performative part of the presentation. Suddenly there was an intensification in the presence, stronger sense of community and playfulness that I seldom have experienced on Zoom meetings. Immediately after the performative part it felt like a small effort to return to the more traditional presentation mode for discussion, but we managed to have a short discussion with insightful questions in the last part of. It was noted that the Storyboard presented in the beginning made it easy to follow the whole presentation. For me it became evident that the potential of using drawing as a form of writing is not restricted to working with children only, but it is an elastic tool which may enhance the formation of common understanding and the distribution of creative agency amongst all ages and in different communities.
References
Barad, K. 2007. Meeting the Universe Halfway: Quantum Physics and the Entanglement of Matter and Meaning. Durham: Duke University Press.
Buber, M. 1923/1993. Minä ja sinä. Translated by Jukka Pietilä. Helsinki: WSOY.
Freire, P. 1968/2005. Sorrettujen pedagogiikka. Translated by Joel Kurtti. Tampere: Vastapaino.
Lenz Taguchi, H. 2010. Going Beyond the Theory/Practice Divide in Early Childhood Education: Introducing an Intra-Active Pedagogy. Abingdon: Routledge.
Contributor
Tuire Colliander is a dancer, dance pedagogue and PhD student in Tutke, Uniarts Helsinki. Her dance pedagogic background is in the context of basic dance education in Finland. She also works as a freelance dance artist and is a member of contemporary dance company Xaris, Finland. In her doctoral thesis, she is investigating early years dance pedagogy and focusing on questions of ethical and respectful means of encounter through dance.