Abstract
Artistic research appears lately as an important tendency in the arts in Greece. As such it has raised interesting issues concerning its emergence in the local art scene and its relationship to concurrent developments in social sciences and humanities, its impact in arts education and contemporary arts locally and internationally. Although artistic research becomes all the more present in the Greek art scene it remains largely undertheorized and un-problematized. This article reflects on a number of projects positioned between visual arts and anthropology, history and archaeology and presented in various contexts in Greece. These selected projects are being analysed through different, yet complementary, perspectives and are examined in the light of anthropological theories of art, agency and performance, in order to provoke some critical thinking towards the impact artistic research has both on the arts and the academia. A number of questions on performance, creativity, transdisciplinarity and collaboration in scientific and artistic research are posed and their educational and political implications are considered.
– – –
This article offers an insight into the ongoing research project "Artistic research in Greece from the 1990s to the years of the crisis" which is being conducted thanks to the Research Centre for the Humanities in Athens, Greece and in collaboration with TWIXTlab. Artistic research is currently expanding in the field of visual arts in Greece and this is the first attempt to create an archive of relevant works since the 1990s. Our brief account presented at the 6th Colloquium of Artistic Research in Performing Arts introduces the context, presents, in short, a number of selected artistic research projects and raises a series of issues related to artistic research in Greece today.
Artistic research in a regional context
Artistic research has received increasing scholarly interest and has evoked a manifold of responses internationally during the last decades (Hallnäs 2017, 95). For some countries it is already recognized as an established discipline (Frisk & Östersjö 2013, 41) while in Greece the issue has just been raised. Artistic research currently occupies the work of more and more artists and it is strongly debated between art and academia. Our research contributes to this ongoing discussion by providing an overview of what has happened from the 1990s until our days. Our aim is to document, study and compare a number of artistic research projects from the local art scene and by doing so to bring to the fore issues and challenges concerning the recent development of artistic research in Greece.
It was during the 1990s that several Greek visual artists undertook research concerning social and artistic issues (in the sense of going beyond experimentation in the domain of painting as a medium) and as time went by, a small number of them gained international visibility. In the work of these artists one can trace concerns close to the so-called "ethnographic turn" (Foster 1996), the "archaeological turn" (see for example Roelstraete 2013) and others. For instance, visual artist Maria Papadimitriou, who represented Greece at the 56th Venice Biennial in 2015, has been experimenting with a variety of participatory projects interconnecting art and social reality. Eva Stefani, a well-established documentary filmmaker with a background in anthropology, has participated in major art events such as documenta14 and is currently representing Greece in the ongoing Venice Biennial. Vangelis Vlahos is another visual artist whose works have been included in significant exhibitions in Greece and abroad and has been engaging with the recent past of the country, mainly through archival research.
It is worth noting that all three of the above-mentioned artists hold academic positions in Greek universities, notably in departments of architecture and theatre studies. Meanwhile, Greek Art Schools face the challenges of artistic research and of further updating their curricula in order to fit in a unified system of higher education introduced in 1999 by the Bologna Process. Master's degrees are already being delivered and the model of research-by-project for doctoral programs is being strongly debated. Nevertheless, some artists are conducting research-oriented doctorates in Greek Art Schools while others are welcomed in doctoral programs in universities' departments of social anthropology, political sciences, sociology, and architecture.
The interest in history, archaeology and archival research as well as anthropology, has lately gained many advocates within the regional art scene and some of their works are presented in this paper. So far, a few Greek university departments provide a hospitable ground for experimentation where academics and artists can exchange experiences, ideas and knowledge (Rikou 2018), but this is not the case for the large majority of them. Lately, few interdisciplinary research groups including artists are working towards more collaborative modes of research, linking the academy to the society at large (this is the case of TWIXTlab, mentioned above). It is true that since 2000 and especially during the years of the so-called 'crisis', where the relations of the arts to politics were more directly claimed than before by many artists, the number of collective initiatives grew and promoted collaborations of all sorts between artists, social scientists, representatives of other fields of study, and the general public. Such was the Kinisi Mavili collective, a group of artists interested mainly in performance and theatre, active at Mavili Square, Athens, around 2010. Its members activated certain abandoned spaces in the city by organizing events where people interested in culture and politics, had the opportunity to meet and exchange ideas.
At the same time, contemporary art has been approached not only as an object to be studied but as an active partner (Gell 1998), especially by anthropologists related to art practices (Rikou & Chaviara 2016, Yalouri 2018, Konstantinou & Anagnostopoulos 2019). Artistic research is believed to be an exemplar for scientific and interdisciplinary research as it has the power to challenge knowledge production and help us think beyond the confined limits of academic discourses. Looking into social anthropology for instance, one can easily see that artistic research brought some epistemological and methodological expansions and revisions in this disciplinary field (Schneider & Wright 2006, 2010, 2013, Laine 2018), while the "ethnographic turn" in the arts fostered anthropology as a rich source of methods, practices and theories for artists, curators, and anthropologists.
Yet opinions over artistic research vary widely. For some creative endeavours will remain marginalized within the research culture of the university (Buckley & Conomos 2009, Harris 2014, 77) while others believe that artistic research lacks validity, use false or invented data to prove its points or even plagiarizes other people's work. In Greece until today there are no written accounts of opposing opinions although such views of artistic research are being discussed among people in the arts. Furthermore, artistic research has also been criticized as a by-product of neoliberal antagonistic relationships in education, associated with the Bologna Process. Introducing artistic research in arts education, for some, undermines the specificity of art schools, organically related to the particularities of visual arts, which should remain foreign to the assessment criteria of the university. Lately, this debate happens to be in its very peak in Greece. What does it mean for the future of art schools and universities to legitimize artistic research as a scientific field? Or, "who's afraid of artistic research", as Dieter Lesage (Lesage 2009) has poignantly put it?
Our methods in documenting artistic research in Greece
In documenting artistic research in Greece we combined methods and practices from the fields of anthropology and art history. The core process of our research was a series of public talks that served to identify and critically discuss different approaches towards artistic research. We invited artists from different backgrounds and interests to present their work focusing on the multiple ways they are related to research. By doing so, we have documented a set of varying methods and practices that are considered to be artistic research practices by the artists who practice them. Spanning from traditional research methods such as archival research and ethnographic fieldwork to more collaborative modes of research or even visual and kinetic stances adopted by artists as research practices, artistic research in Greece is a very complex phenomenon, and therefore difficult to theorize.
Though an effort was made to invite not only artists that evidently do artistic research but also artists that are experimenting with various means close or around research, including architects, choreographers and others. We made sure to include artists from different generations from well-established to emerging, living and working mainly in Athens, or between Athens and other cities in Europe or the United States, professors as well as Ph. D. candidates, individual artists and art collectives. All artist's talks were followed by fruitful and thought-provoking discussions open to the audience of TWIXTlab. Engaging the public in a dialogue about artistic research within the contemporary artistic scene in Greece gave us the opportunity to document a great set of information on how artistic research is being perceived from both sides: the academia and the art world.
Certain art historians (see for instance Delacourt, Schneller, Théodoropoulou 2016) consider that, up till now, the issue of artistic research is mostly debated in abstract terms, rarely including what artists themselves think and how they end up with their specific practices. This is probably why a need to "reclaim" artistic research has recently surfaced, in order to "recreate space for artists to lead and shape conceptions of artistic research and its place in art" (Cotter 2019, 15). As far as our research is concerned, not only do we highlight artists' own definition of "artistic research" as characterizing their work, but we are also in the process of considering in depth four of the above mentioned artists' individual itineraries, by working in close collaboration with them while they develop their work. These four artists (Fotini Gouseti, Eva Giannakopoulou, Alexis Fidetzis, Campus Novel) are conducting research drawing from the disciplines of anthropology, history and archaeology. We believe that these case studies will help us better bring to the fore the particularities of each individual itinerary in art and research and render clearer the artists' choices of method related to specific projects. Artistic research is frequently debated in abstract terms and it is rare that (Delacourt, Schneller, Théodoropoulou 2016).
Since we first started looking into artistic research in Greece we were not interested in a strict, short definition that would possibly narrow our work down to a few cases. Although the criteria that we applied to qualify an art project as "research" and thus worth to include in the archive was of considerable importance to us, we were and we still are fascinated by the wide range of different approaches and understandings. Therefore, we tried to document a series of explanations of how artistic research is perceived and conducted. Or perhaps present what we think the main issues and objectives of artistic research are.
Some artistic research projects in Greece
Our paper presents some indicative examples of a multitude of artistic research projects and artists in an attempt to illustrate the specificity of artistic research and enhance the ongoing debate with some new approaches and perspectives. From archival research and archaeology of the present to collaborative research endeavours, all works described here are selected by the authors as samples of a wide range of different ways in which research methods and practices are applied in the arts or the other way round, how artistic practices are used in other disciplinary fields.
Artist Collectives
Omada Filopappou, Alexandros Iolas Project, 2011
Omada Filopappou was an artistic collective that developed a series of projects related to "the city and localities that present a strong historical identity or a particular archaeological and urban planning interest". The team started working in 2001 but has been inactive for the past few years. Although the team, as some of its members told us, was not centred in research, it had been interested in research methods and practices and collaborated with scholars from other fields. Their Alexandros Iolas Project was the one that clearly involved research or that actually research was its mainstay. The project's main goal was to investigate the example of the Greek art collector and the parallel stories of his collection and his mansion in Athens as a "symbolic mapping of the history of modern Greek art".
Kinisi Mavili, Embros Theater, 2011
In 2011 Kinisi Mavili, a collective of artists took the initiative to reopen the historic building of Embros Theater in Athens. The theatre had remained closed since 2007 due to financial pressure. Kinisi Mavili occupied it and turned it into a vibrant artistic, social and political squat where established as well as emerging artists have the opportunity to present their work. Embros Theater became a hospitable place for collaborations between people of various disciplinary backgrounds.
Campus novel, artist's collective, 2011–today
Campus Novel is an artistic collective that was founded in 2011 by five artists of different academic backgrounds (architecture, archaeology, chemistry, conservation). The collective is exploring the present as archaeologists would do. Collecting, classifying, analysing and interpreting data drawing from their urban environment is often their practice. Performative interventions, forming collections and archives, installations and publications are some of their main media while they also curate exhibitions, residencies, workshops and symposia. Here we briefly present some of their work.
Collective Authorship, Athens Biennial 4 "Agora" 2013
A workshop organized in the framework of the 4th Athenian Biennial focused on the set of traditions and social behaviours regarding the consumption of coffee. Collective Authority was an actual invitation to socialize, discuss and debate the theme of crisis with Campus Novel within an art institution. Throughout the workshop a collective text was produced by the compilation of handwritten notes made by Campus Novel in an attempt to document discussions that took place in their coffee sessions.
ANAPLASIS, Platforms project Art Athina 2015
Anaplasis was a "performative assessment" of the development plans for the coastal area of Pireas. Campus Novel members found themselves in an abandoned restaurant in the coast of Neo Faliro. The area once very popular among Athenian tourists is now a decadent place. Despite the promises for an Athenian Riviera, Neo Faliro remains today a declining area of Athens where one can observe the traces of social hope for development and prosperity. Campus Novel in 2016 hung three signs on a restaurant's facade. Each sign was representing a certain era, its aesthetic values and its dreams for development plans. The documentation of the performative action undertaken by the members of Campus Novel was presented in Art Athina.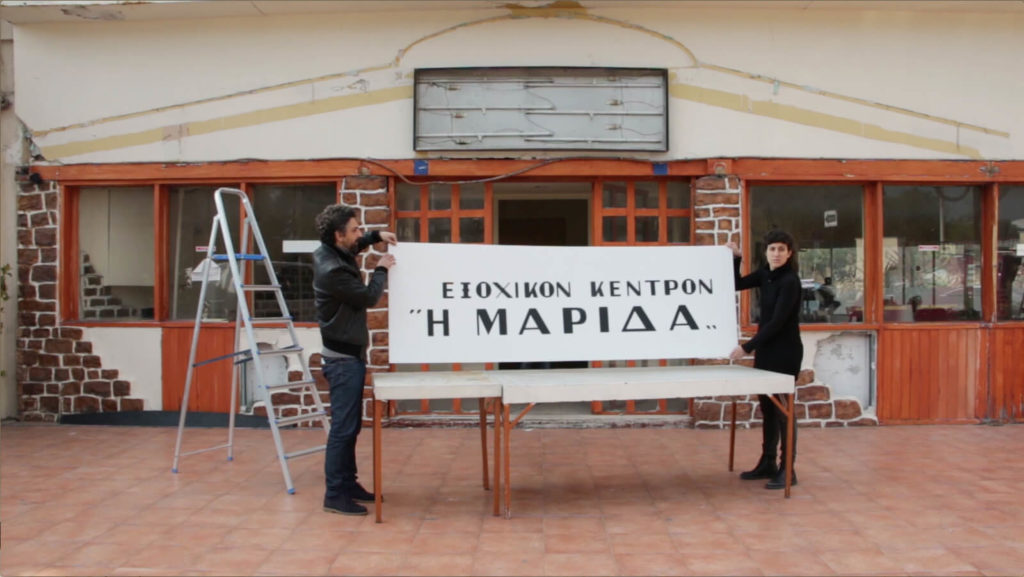 Rezeptionsästhetik, Snehta residency 2017
Observation and systematic documentation of entrance halls of apartment buildings in Kypseli were the practices that led Campus Novel to their Rezeptionsästhetik work. Following a surface survey that scanned the neighborhood of Kypseli, Campus Novel collected a great set of images depicting entrance halls. Analyzing their research material, they ended up with several classifications based on date, aesthetic characteristics and material used. Rezeptionsästhetik is therefore the aesthetic typology invented by Campus Novel in order to classify entrance halls in Kypseli.
Twixtlab, "Be-twixt" art, anthropology and the everyday, 2014–today
TWIXTlab is a non-profit organization explicitly based on artistic research in relation to anthropology and the humanities. The idea of the project TWIXTlab first came to Elpida Rikou, who is both an artist and an anthropologist (and one of the authors of this paper) while teaching a university course on Anthropology and Contemporary Art, introduced in the curriculum of the Theory and History Department of the Athens School of Fine Arts in 2007. During the years of the so called 'crisis' and after having initiated certain art research collaborative projects such as Fonés (Voices) (Panopoulos & Rikou 2016) and Axia/Value (Yalouri, Lampropoulos, Rikou 2018), Elpida realized the need for a hub where collaborations between artists, anthropologists and other social scientists and theorists could develop in a long term basis, more systematically than the academia was willing to allow at that time. What is also important to note is that TWIXTlab encourages a close relation of art and research to social and political issues of everyday life. Today TWIXTlab is a place where art research projects are conducted, along with seminars, workshops and other activities related to art, the humanities and the everyday involving artists, scientists and the general public.
One of the members of TWIXTlab is the visual artist and now a PhD candidate in anthropology, Sofia Grigoriadou, who lives and works between Athens and Skopje, engaging in research, education and curating. With her and the anthropologist and sound designer, Yorgos Samantas, TWIXTlab team initiated, among other projects, in 2015, the art research project Learning from documenta in collaboration with the anthropologist and archaeologist Eleana Yalouri, assistant professor at the Department of Social Anthropology, Panteion University of Social and Political Sciences.
Documenta 14 'Learning from Athens' took place in 2017 both in Kassel and Athens and has been a major cultural event with significant political and economic parameters for Greece during the 'crisis'. Learning from Documenta was a two-year research project (2015–2017) aiming at critically observing and discussing aspects of documenta's presence in Athens with reference to other artistic, economic and socio-political developments in Greece and internationally. Learning from documenta was developed in four axis: anthropological research through participant observation focused on documenta 14; academic collaboration locally and internationally; artistic interventions; a platform where the research was made accessible through the media (Rikou & Yalouri 2017).
Individual Artists-Researchers
Beyond collectives, in Greece today, there are many individual artists working on relevant themes. It is worth noting that many of them are critically commenting on issues of identity; gender, national or other, the predominance of the ancient past in the construction of Greek identity, the present-day rise of the far-right and other political issues.
Vangelis Vlahos
Vangelis Vlahos is a well-established artist from Athens. His work is indicative of the current tendency of artists to get involved into the social and political reality of today by investigating the past. Vlahos mainly constructs archives of images and clippings through which one can re-read historical events – often related to Balkan politics and geopolitical relations. His works Foreign Archaeologists from standing to bending position (2012), Remains (2011), Objects to relate to a trial (2017) – to name but a few – are focusing on a repetitive detail that makes us think of what or who mediates reality.
Nina Pappa
Nina Pappa is a visual artist based in Athens. She holds a Ph. D in Theory of Art and an academic position as an Assistant Professor at the Department of Architecture, National Technical University of Athens. Nina Pappa incorporates interviews or other recordings of people within her work. Through these documentary features she often presents video-soundwalks. Her latest work The lost text (2019) is a video-walk based on her long-term research in the Epigraphical Museum at Athens, one of the oldest museums in Greece where a great collection of ancient stone inscriptions is held.
Fotini Gouseti
Fotini Gouseti is a visual artist and a Ph. D. candidate in anthropology at the University of Thessalia. She is involved in a long-term research in a mountainous village of Peloponnese investigating a major collective trauma of the Second World War and the subsequent civil war in the local context of the village of Kalavryta. Fieldwork research methods are her primary art practices. Her work The Present as a Result of the Past (2013–ongoing) is just an example of her very rich portfolio. It is a series of woodprints referring to the number of women and children that survived in Kalavryta when the village was destroyed by the Nazis in 1943 during WWII.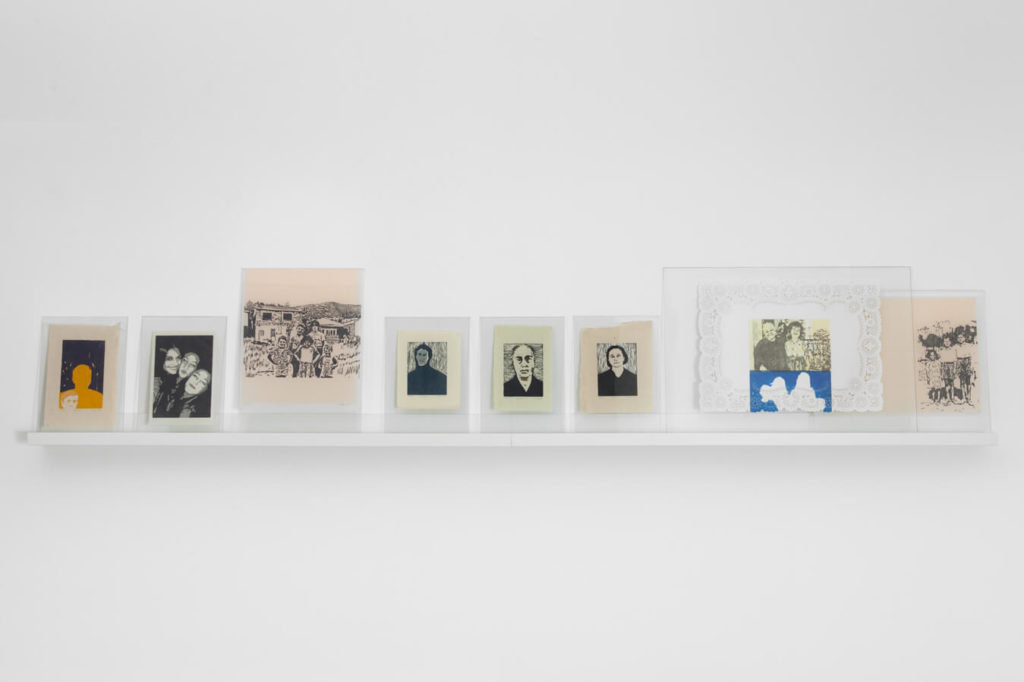 Fotini Gouseti, The Present as a Result of the Past (2012–2021), "About 1500", (part of The Present as a Result of the Past), Grimmuseum, medium: wood prints, dimensions: variable. Photo: Torben Höke©
Eva Giannakopoulou
Eva Giannakopoulou is a visual artist born on the island of Ithaka and based in Athens. Giannakopoulou's practices include participant observation and interviews and her research interests focus on religious groups, the so-called "movement of the squares" and the LGBTQI community in Greece. Her work At the Beach (2016–2019) is a series of experimental documentaries exploring notions of parenthood and the ways it is related to desire and emotions. Brides of Maltepe made in collaboration with the artist Persefoni Myrtsou (2015–ongoing) is a series of video-episodes where the two artists, sharing their lives between three countries (Greece, Germany and Turkey) are "examining stereotypical and prevailing structures of transnational love and maverick forms of partnership."Undocumented documentations _on narratives, lessons and copyrights is a film made in collaboration with the visual artist Dimitra Kondylatou (2016–2017) as the outcome of their fieldwork conducted to document and comment on the presence of documenta 14 in Athens in relation to the Learning from documenta project. The film stands out as an exemplary case of observational cinema, which is at the same time theoretically informed.
Updates on how a research on artistic research in Greece should continue
Today, poetics and politics of identity, class, race, nationhood, religion, gender and sexuality, seem to be of great interest to Greek artists. Their perspectives on these important political issues, as well as the methods of research they appropriate, can reveal a lot on the relationship between artistic research and its social and historical context.
Collaborations and teamwork seem to matter a lot in how artistic research is developed in Greece – both in and outside the academy. Their importance seems to be further enhanced during the years of the 'crisis'. How do these collaborations influence individual perspectives? What do they bring to the research process and what kind of knowledge do they produce? What are their aesthetic, ethical and political implications as far as artistic research is concerned?
Exhibitions remain important as an outcome for the art research projects in Greece. The process as such seems to be less valued as an artwork per se by the artists themselves – at least a significant number of them. How does the "end result" fashions the process? Overall, what does value attributed to exhibitions mean concerning the artists' relations to the academy, and to private or public art institutions? Does funding and institutional support influence content and methods of research and if yes, in which ways? We may also note that performance is frequently chosen as a means of art making in this field, but we need to better understand exactly how these artists understand and use of performance as a tool of research.
Education is apparently an issue of significance. How can art schools provide an interesting context for the development of artistic research? Artistic research is also used by artists and collectives as a means for "educating" or implicating the broader public into processes of art making- in what way? What can this bring to research as far as knowledge production is concerned?
At this point of our research, we realize that the number of art projects we have to document is far greater than we expected. We need to better understand how, why and when decisions about means and ends are made by the artists, to pay attention to detail and to put forward the diversity of research and art making strategies in specific contexts. We are trying to critically reflect on our findings by referring to different, yet complementary, perspectives – artistic, epistemological, educational and political –, and we re-examine them in the light of art history combined with anthropology of art.
References
Buckley, Brad, and John Conomos, eds. 2009. Rethinking the Contemporary Art School: The Artist, the PhD, and the Academy. Nova Scotia, Canada: Press of the Nova Scotia College of Art and Design.
Cotter, Lucy, ed. 2019. Reclaiming artistic research. Berlin: Hatje Cantz Verlag.
Delacourt, Sandra, Katia Schneller, Vanessa Théodoropoulou, Mathieu Kleyebe. Abonnenc, Kantuta. Quiros, Aliocha. Imhoff, Kapwani. Kiwanga, Obong. Nsukula, and Émilie. Villez. 2016. Le Chercheur et Ses Doubles. Éditions B42.
Foster, Hal. 1996. The Return of the Real: The Avant-Garde at the End of the Century. Cambridge.
Frisk, Henrik, and Stefan Östersjö. 2013. "Beyond Validity: Claiming the Legacy of the Artist-Researcher." Svensk Tidskrift För Musikforskning 95: 41–63.
Gell, Alfred. 1998. Art and Agency: An anthropological theory. Oxford: Clarendon Press.
Hallnäs, Lars. 2017. "Once Again… What is Artistic Research?" In FUTURES OF ARTISTIC RESEARCH At the Intersection of Utopia, Academia and Power, edited by Jan Kaila, Anita Seppä, and Henk Slager, 95–101. Helsinki: The Academy of Fine Arts, Uniarts Helsinki.
Harris, Anne. 2014. The Creative Turn: Toward a New Aesthetic Imaginary. Rotterdam: Sense Publishers.
Konstantinou, Katerina, and Aris Anagnostopoulos. 2019. "Interweaving Contemporary Art and 'Traditional' Crafts in Ethnographic Research." Art/Research International: A Transdisciplinary Journal 4 (1): 58. doi:10.18432/ari29420.
Laine, Anna-Kaisa. 2018. Practicing Art and Anthropology: A Transdisciplinary Journey. London: Bloomsbury Academic.
Lesage, Dieter. 2009. "Who's Afraid of Artistic Research? On Measuring Artistic Research Output." Art & Research: A Journal of Ideas, Contexts and Methods 2 (2).
Panopoulos, Panagiotis & Elpida Rikou eds. 2016. Phōnes = Fonés. Athens: Nisos.
Rikou, Elpida. 2018. "Research as Art in/as Context." In Yalouri, E. & Rikou Elpida eds. FIELD: A Journal of Socially-Engaged Art Criticism. Issue11: The Art of Research Practices Between Art and Anthropology. [Available at http://field-journal.com/editorial/research-as-art-in-as-context ]
Rikou, Elpida, and Io Chaviara. 2016. "'Crisis' as Art: Young Artists Envisage Mutating Greece." Visual Anthropology Review 32 (1): 47–60. doi:10.1111/var.12092.
Rikou, Elpida, and Eleana Yalouri. 2017. "Learning from Documenta: A Research Project Between Art and Anthropology." ONCURATING, no. 33.
Roelstraete, Dieter. 2013. The Way of the Shovel: On the Archaeological Imaginary in Art. Chicago: Museum of Contemporary Art Chicago and University of Chicago Press.
Schneider, Arnd, and Christopher Wright. 2010. Between Art and Anthropology: Contemporary Ethnographic Practice. New York: Berg Publishers.
Schneider, Arnd, and Christopher Wright. 2013. Anthropology and Art Practice. London & New York: Bloomsbury Academic.
Schneider, Arnd, and Christopher Wright. 2006. Contemporary Art and Anthropology. Berg.
Yalouri, Eleana. 2018. "The Return of the Unreal." FIELD: A Journal of Socially-Engaged Art Criticism, no. 11.
Yalouri, Eleana. Lampropoulos, Apostolos. Rikou, Elpida, ed. 2018. ΑΞΙΑ [Value]. Athens: Nisos.
Contributor(s)
Elpida Rikou
Elpida Rikou is a visual artist, social anthropologist and social psychologist. Her work concerns the relations of the arts to the humanities, cultural policy, everyday life in the city, the body and mental health.
Katerina Konstantinou
Katerina Konstantinou is an art historian. She is currently a PhD candidate in the Department of Social Anthropology at Panteion University in Athens. Her research interests focus on the intersection of the fields of contemporary arts, anthropology and archaeology.